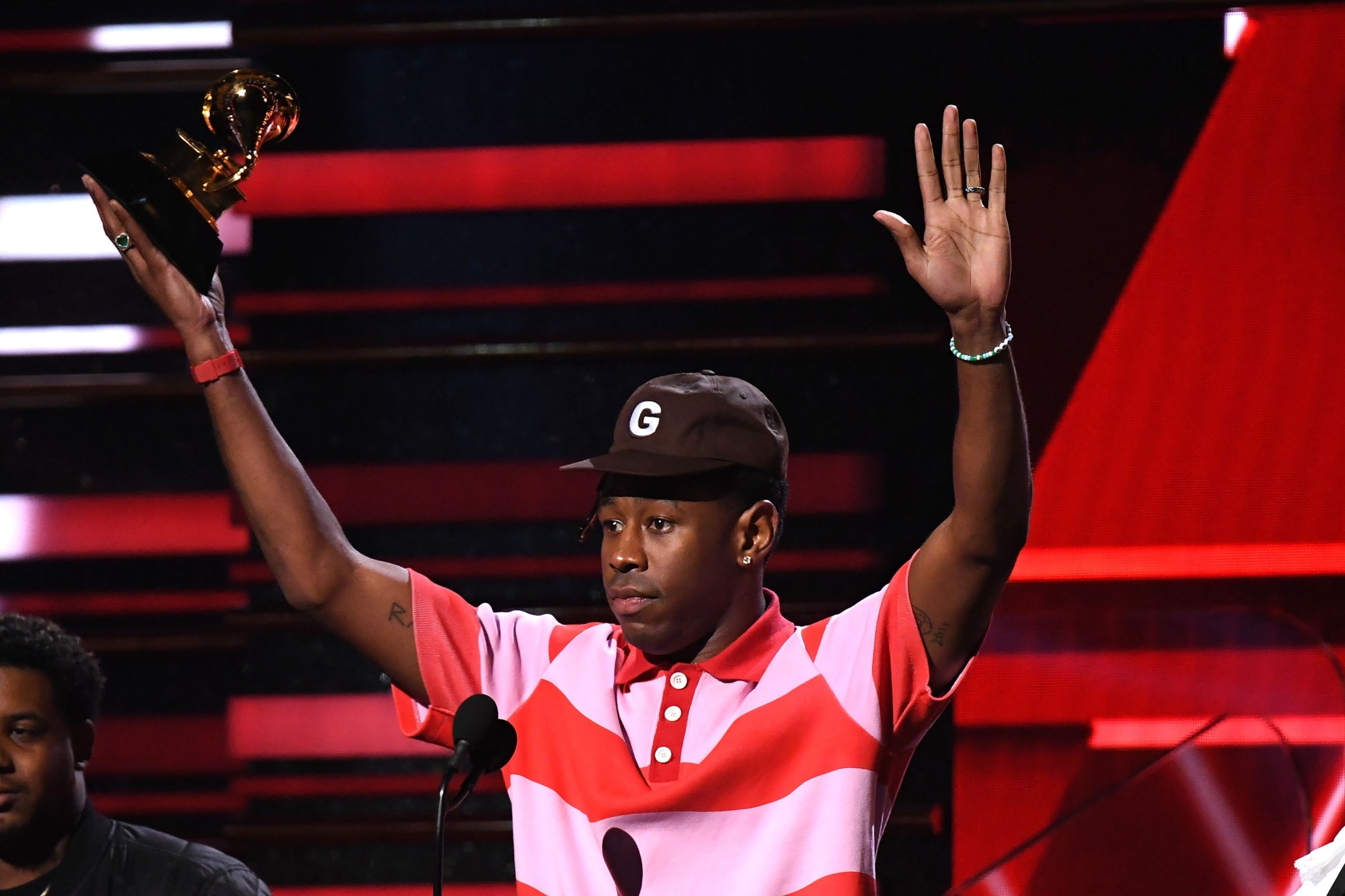 Tyler, the Creator has quote-tweeted a message from a stranger online that claimed the rapper would never get a Grammy award. 
Tyler won the prize for Best Rap Album – his first-ever Grammy – at the ceremony held last weekend (26 January), for his critically acclaimed album IGOR.
Shortly after, he shared a tweet by a man who told him: "Dont b too excited [sic[. u wont get [a Grammy]…."
"I FAVORITED THIS 9 YEARS AGO JUST FOR THE MOMENT TO TELL YOU I GOT ONE. YES IM PETTY AS F***, GOOD DAY MARK," he wrote. 
The tweet has received more than 170,000 retweets and almost one million likes.
Speaking to press after the awards, Tyler said that he felt "half and half" about his win. 
"On one side, I'm very grateful that what I make can be acknowledged in a world like this, but also it sucks that whenever we – and I mean guys that look like me – do anything that's genre-bending, they always put it in the rap or urban category."
"I don't like that 'urban' word," he added. 'It's just a politically correct way to say the 'n' word to me."
He continued: "So when I hear that I'm like, 'Why can't we just be in pop,' do you know what I mean? Half of me feels like the rap nomination was a backhanded compliment, like, 'Oh, my little cousin wants to play the game, let's give him the unplugged controller so he can shut up and feel good about it."
Tyler was previously nominated for his 2018 album Flower Boy, and as a featured artist on Frank Ocean's Channel Orange in 2013. 
Actor and rapper Jaden Smith, who has previously teased fans about the nature of his relationship with Tyler, tweeted his congratulations about this year's win, writing: "My boyfriend just won a Grammy."